Garage Door Repair Service
Repair Services
Garage Doors
Garage Door Openers
Garage Door Springs
Panels, Tracks & Cables
Installation Services
Garage Doors
Garage Door Openers
Garage Door Springs
Replacement Panels
Preventive Maintenance
With our thorough safety checks and inspections, we'll address all potential issues to keep your garage door running smoothly.
Garage Door Repair Services
Garage Door Repair
If your garage door is damaged, we'll advise you of all options available. Whether you just need a panel replaced or a new garage door, we offer same day repairs and fair prices.
Garage Door Spring Repair
Broken garage door spring? Garage door spring repair is one of our most common service requests. Our vans are fully stocked and we can replace your broken spring on the spot.
Garage Door Opener Repair
Whether your garage door opener runs slow, makes noise or just stops working, we can fix it or replace it. We carry all major brands and can install a new, state of the art opener for you.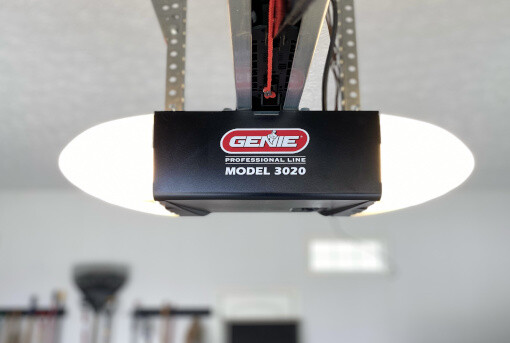 Garage Door Track Repair
A bent or warped garage door track can cause your door to dislodge, open and close incorrectly or stop working entirely. We'll repair or replace it and get your door back in service.
Garage Door Cable Repair
Garage door cables wear out over time. They can become frayed, bent and even break completely. When this happens, your door won't open or close properly. Call us. We can help.
Garage Door Roller Repair
If your garage door creaks, cracks or rattles, you may just need a new set of rollers. New rollers are affordable and can make even the noisiest doors open quietly and smoothly.  
Reviews From Our Satisfied Customers
Ohio's Most Trusted Garage Door Repair Service!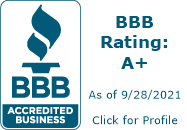 Better Business Bureau
BBB Rating: A+
Accredited Business

Angi
Angi - 2022 Super Service Award Recipient!

Angi
Angi - 2021 Super Service Award Recipient!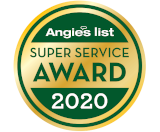 Angies List
Angies List - 2020 & 2019 Super Service Award Recipient!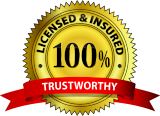 Licensed and Insured
Licensed and
Fully Insured!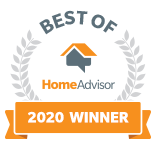 Home Advisor Best of 2020
Home Advisor - Best of 2020 Winner!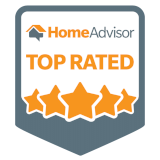 Home Advisor Top Rated
Home Advisor - Top Rated Professional!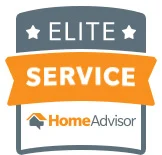 Home Advisor Elite Service
Home Advisor - Elite Service Award!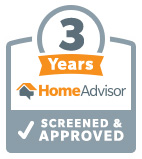 Home Advisor 3 Years
Home Advisor - 3 Years Screened & Approved!
Most Common Garage Door Repairs
Garage door repair costs vary depending on the type of repair that's needed. The most common garage door repairs usually include things like:
Broken springs
Broken garage door opener
Damaged or broken panels
Frayed or broken cables
Broken or damaged tracks
Roller replacement
Bottom weather seal replacement
Broken hinges and brackets
If you're like most of our customers when you have an issue with your garage door or garage door opener, you want it handled quickly and at a reasonable price. This is where we come in. We provide affordable, professional, same-day service. No matter your need, we've got it covered where you need it and when you need it. We proudly serve Akron, Canton, and surrounding areas in Northeast Ohio. As a family-owned business based out of Uniontown, Ohio, we pride ourselves on putting customer satisfaction above all else. Check out our profile on FaceBook.
We specialize in providing affordable garage door and garage door opener repair services. We use only the highest quality garage doors, door opening systems and support materials from reputable manufacturers like Haas Door, Liftmaster, Genie, C.H.I. and Wayne Dalton. Why? Because we want to get the job done right the first time. And every time.
Don't leave your garage maintenance and repair needs to just anyone. With something as critical as the largest door into your home, trust the trained professionals at Prestige Door!
Why do Garage Doors Break Down?
When it comes to garage doors breaking down, there are two things you can count on. First, garage doors break down when you least expect them to. And second, you're going to have to spend some money to repair or replace them.
Unfortunately, garage doors are used so much, that out of every moving part in your home, they are one of the most likely to suffer breakdowns. Furthermore, did you know that the average garage door is opened and closed up to 1,500 times per year? You can imagine the wear and tear that results from such frequent use.
Based on that fact, they require routine maintenance and timely repair when they break down. After all, you need a functional garage door no matter the time of day or day of the week.
If you are a homeowner, you may ask yourself:
"What can I expect from routine maintenance?"
"How much does garage door repair cost?"
"What type of garage door repair will I need?"
"Can I get emergency service?"
We can answer all of these questions and more. Call us anytime!!
DIY Garage Door Repair
There is a reason why we exist. Not every homeowner can handle a garage door repair job on their own. But that doesn't mean there's nothing you can do. DIY garage door repair jobs are absolutely possible with simple tools. One of the simplest chores is lubrication. Just make sure not to use any old lubricant. You want to make sure you head to the hardware store and get lubricant specific to garage doors.
Is your garage door sensor starting to blink out? You may need a new battery. This is also a simple job that'll save you money. Finally, if your garage door is clattering and making all sorts of noise, you may need to tighten the screws and bolts. Have a look at all the hinges, nuts and bolts, grab your tools, grease our elbow and get to work! Just make sure you give us a call for jobs include fixing or replacing springs, tracks, rollers, openers, cables, drums, new door install or any other complex component. Those repairs carry some risk and should be handled by a professional garage door repair person.
Routine Maintenance
Here at Prestige Door, we handle routine garage door maintenance day-in and day-out. You can expect us to inspect the door itself, open it and close it, and ensure the various components responsible for its use are functional and intact. And while a mechanically inclined homeowner may feel like they can handle this job themselves, it is important to remember that committed garage door repairmen know what to look for.
However, sometimes you need more than just routine maintenance. Furthermore, unanticipated issues arise when garage doors break down. Garage door repair includes everything from broken springs to damaged garage door panels. But in some cases, the garage door may come off the track or suffer from a broken chain or cable. Because it is important to remember, routine maintenance goes a long way to preventing these problems. But still, no one can prevent the unexpected.