Garage Door Repair in North Canton, Ohio
Prestige Door offers expert garage door repair and installation services in North Canton and surrounding areas.
Garage Door Repair
Garage Door Opener Repair
Garage Door Springs
Panels, Tracks & Cables
New Garage Doors
New Garage Door Openers
Replacement Panels
Energy-Efficient Glass
With our thorough safety checks and inspections, we'll address all potential issues to keep your garage door running smoothly.
North Canton Garage Door Repair
Garage Door Repair
Are you looking for an affordable garage door repair company in the North Canton area? We offer same-day repairs at reasonable prices. We'll get you back up and running in no time.
Garage Doors & Installation
Is it time for a new garage door? We offer a wide selection of high-quality garage doors to choose from. Our award-winning garage door installation service is fast, efficient & affordable.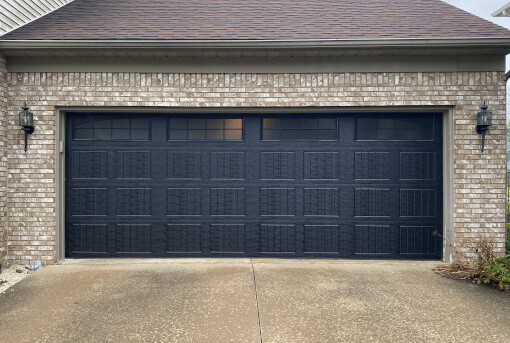 Garage Door Opener Repair
Whether your garage door opener runs slow, makes noise or just stops working, we can fix it or replace it. We carry all major brands and can install a new, state of the art opener for you.
Garage Door Cable Repair
Garage door cables wear out over time. They can become frayed, bent and even break completely. When this happens, your door won't open or close properly. Call us. We can help.
Garage Door Roller Repair
If your garage door creaks, cracks or rattles, you may just need a new set of rollers. New rollers are affordable and can make even the noisiest doors open quietly and smoothly.  
Garage Door Repair "Why Choose Prestige Door?"
If you're looking for a trusted, local garage door repair company in Canton, North Canton and the surrounding areas, there are many repair companies to choose from. What many of our customers are looking for is a repair service with 5-star reviews, a solid reputation, and a history of doing things the right way. If you're looking for that too, you've come to the right place! Not only are we a locally owned company, but we are family-owned and operated as well. Our friendly, knowledgeable staff of repair and install technicians is carefully selected and professionally trained. Our top priority is to fix your issue quickly and thoroughly so that you are completely satisfied when our work is done. Please take a moment to look at our "Reviews" page and hear from some of our previous customers.
Click Here to See Our Customer Reviews!
North Canton's Trusted Garage Door Repair Service!
Home Advisor Best of 2020
Home Advisor - Best of 2020 Winner!
Angies List
Angies List - 2020 & 2019 Super Service Award Recipient!
Home Advisor Top Rated
Home Advisor - Top Rated Professional!
Licensed and Insured
Licensed and Fully Insured!
Home Advisor Screened
Home Advisor - Seal of Approval!
Home Advisor Elite Service
Home Advisor - Elite Service Award!
Garage Door Repair in North Canton
Expert Garage Door Service in North Canton, Ohio
If you're looking for a local garage door repair expert in North Canton, Prestige Door has been answering the call from area residents for many years. Not only are we a family-owned company, but we are locally owned and operated as well. Our repair and installation representatives are carefully selected and thoroughly trained so that your experience with our company is positive, and you are completely satisfied with the quality of work being done. We offer free estimates, same-day repair service, and reasonable prices. Whether you just need a quick repair to get your garage door up and running or a brand new garage door or opener, we'll give you several options so you can decide what's best for you.
The success of our business depends on integrity and professionalism, that's why we'll always do what's right in every situation. Creating satisfied customers is our number one priority. Let Prestige Door be your local garage door repair experts.
A Brief History of the City of North Canton
Did you know North Canton has a total area of 6.4 square miles and is ranked as the 108th most populated city in Ohio? Well, don't let the small size of this historic city fool you. North Canton is well known as the home of the Hoover Vacuum Company, the North Canton Jaycees and several professional athletes, musicians and actors.
Originally known as the Village of New Berlin, North Canton was formed in 1831. The original name was changed to North Canton in 1918 due to the unpopularity of being associated with Germany during World War I.
North Canton is best known for the Hoover Vacuum Company, which was founded in 1908 by William Henry Hoover. The Hoover company manufactured and sold floor care products such as Vacuum cleaners, hard floor cleaners and stick vacs. By 1933 Hoover had become the world's largest producer of vacuum cleaners. During World War II, the Hoover Company supported the American war effort by producing helmet liners and bomb fuses. Hoover was recognized by the U.S Government, receiving several awards for its contributions. The company was sold to the Maytag Corporation in 1989, and ultimately closed its doors in 2007.
The North Canton Jaycees was founded in 1946 as a non-profit organization focused on providing leadership training and community service opportunities for young adults age 18-41. The Jaycees provide members with valuable life skills training ranging from personal development and leadership to marketing and business.
Prestige Door is proud to serve the residents of North Canton, Ohio for all of their garage door repair and installation needs. If you need help, contact us today!