Garage Door Repair in Akron and Surrounding Areas
Repair Services
Garage Door Repair
Garage Door Opener Repair
Garage Door Spring Repair
Panel, Track & Cable Repair
Installation Services
Garage Doors
Garage Door Openers
Garage Door Springs
Replacement Panels
Preventive Maintenance
With our thorough safety checks and inspections, we'll address all potential issues to keep your garage door running smoothly. 
Akron Garage Door Service
Welcome to Prestige Door, where garage door repair is our family business. We are committed to taking care of you, our customer, by providing you with the highest quality repair and installation services in the Akron area. With our affordable prices, same-day service, and proven track record, we hope you'll join our family of satisfied clients and give us a call.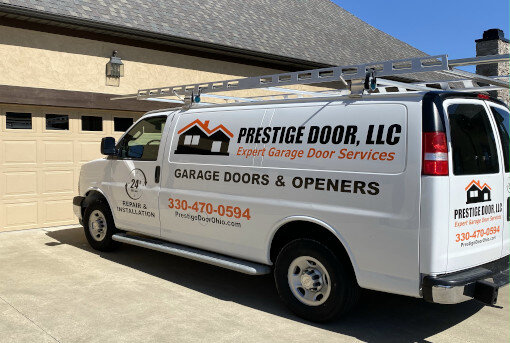 Garage Door Repair
Is your garage door damaged or not functioning properly? If so, we can help. We offer free estimates, fast repairs, and fair prices. With our fully stocked repair vans and trained staff, we can get you back up and running the same day!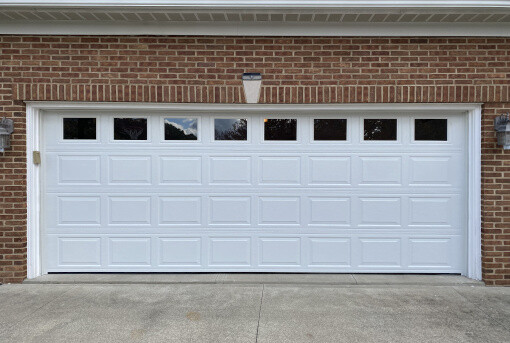 Garage Door Installation
Do you need a new garage door? If your garage door is damaged or just old and worn down, we offer a wide selection of doors to fit any budget. Our award-winning garage door installation service is fast and our prices are affordable.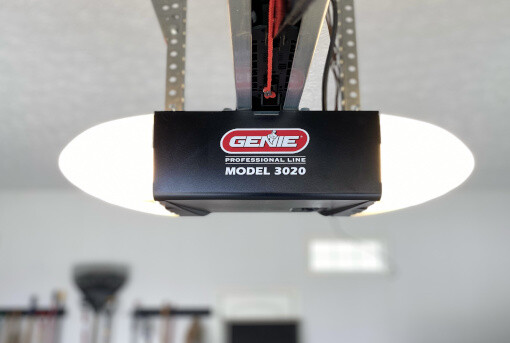 Garage Door Openers
Does your garage door opener grind and rattle or make loud noises? If so, you're in luck. Garage door opener repair is one of our specialties. We can fix it or replace it with a new opener that's quiet and smooth.
Reviews in Akron and Surrounding Areas
Akron's Most Trusted Garage Door Repair Company!
The success of our company depends on delivering exceptional quality and value to every customer we serve. That's why we'll always do what's right for you in every situation. Creating satisfied customers is our top priority and our mission. Give us a call. We'd love to show you why we're on our way to becoming Ohio's most trusted and reliable garage door repair team!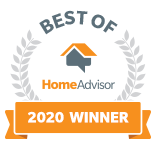 Home Advisor Best of 2020
Home Advisor - Best of 2020 Winner!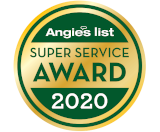 Angies List
Angies List - 2020 & 2019 Super Service Award Recipient!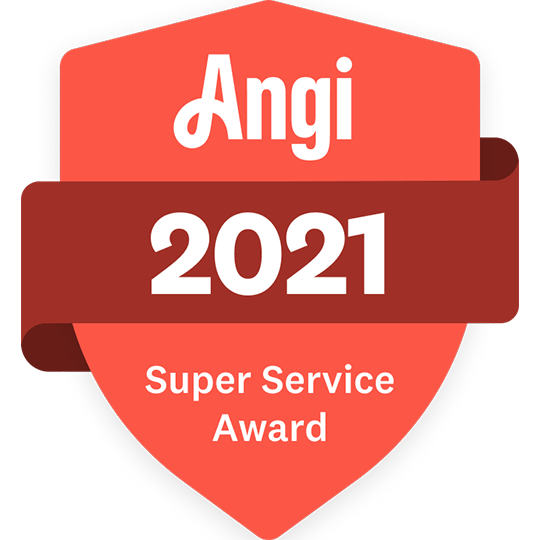 Angi
Angi - 2021 Super Service Award Recipient!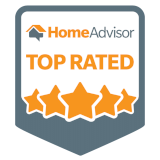 Home Advisor Top Rated
Home Advisor - Top Rated Professional!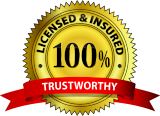 Licensed and Insured
Licensed and Fully Insured!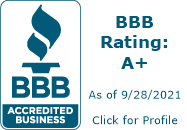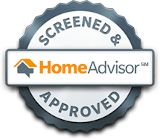 Home Advisor Screened
Home Advisor - Seal of Approval!

Home Advisor Elite Service
Home Advisor - Elite Service Award!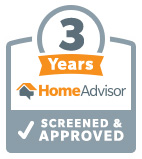 Home Advisor 3 Years
Home Advisor - 3 Years Screened & Approved!
Most Common Garage Door Repair Service Calls
Damaged Garage Door
If your garage door is damaged, we'll advise you of all the options available. Whether you just need a panel replaced or a new garage door, we offer same-day repairs at no additional cost, and our prices are very competitive.
Garage Door Opener Repair
Whether your garage door opener runs slow, makes noise or just stops working, we can fix it or replace it. We carry all major brands of garage door openers and can install a new, state of the art opener for you.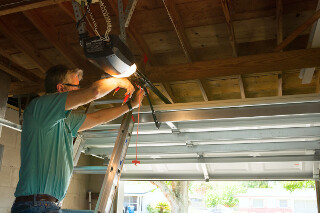 Broken Garage Door Spring
Broken garage door spring? Garage door springs break. In fact, spring repair is one of our most often requested services. Our vans are fully stocked and we can replace your broken spring on the same day.
Garage Door Off Track
A bent or warped garage door track can cause your door to dislodge, open and close incorrectly or stop working entirely. We'll repair or replace it and get your door back in service.
Garage Door Cable Repair
Garage door cables wear out over time. They can become frayed, bent and even break completely. When this happens, your door won't open or close properly. Call us. We can help.
Worn Out Garage Door Rollers
If your garage door creaks, cracks or rattles, you may just need a new set of rollers. New rollers are affordable and can make even the noisiest doors open quietly and smoothly.
Garage Door Repair "The Prestige Door Difference"
Why Choose Prestige Door?
Customer Satisfaction
At Prestige Door, our goal is to provide you with an excellent experience with your garage door repair or installation service. We'll keep your Garage Doors running smoothly and we'll do it for a reasonable price.
Emergency Service
You can't predict when you'll need our help, so we're available 24 hrs a day, 7 days a week to serve you. We offer Emergency Garage Door Service to help you when you need it most. If it breaks, we can fix it. Call us anytime!
Family Owned Business
We are a family-owned business that cares about the satisfaction of our valued customers. Our promise to you is fair pricing, honest workmanship, and exceptional value. We maintain an A+ rating with the Better Business Bureau.
We Repair, Install and Service All Major Brands!
Garage Door Opener Repair or Replacement
If your current garage door opener is noisy, clunky or broken, we can help! Most garage door openers are built to last about 10 years. However, with proper maintenance of your garage door springs and rollers, you can get closer to 20 years of use out of a quality garage door opener. When it's time to replace your garage door opener, Prestige Door offers a wide selection of high quality, reasonably priced openers from Genie and LiftMaster. Click on one of the photos or blue link below to see our full photo gallery of garage door openers!
Garage Door Spring Replacement
Garage door spring repair is one of the most common service calls we receive each day. There are two main types of garage door springs, extension springs and torsion springs. When one spring breaks, it's not uncommon for the other spring to follow suit within a short period of time. For this reason, it makes sense to replace both springs at the same time for optimal performance and maximum cost savings. Prestige Door, LLC stocks a wide variety of replacement springs on our repair vans so in most cases, we can replace your broken springs on the spot!
Here is an example of a broken spring replacement. You may be asking yourself, "why does the new spring look longer than the old spring?" Great observation! Most springs, when paired with a new garage door, have a 10,000 cycle life span. Here at Prestige Door, we believe in going the extra mile, so every spring replacement we do comes with an upgrade at no additional cost! By increasing the gauge and length of the spring, we are able to extend the life cycle dramatically. In this example, we more than doubled it from a 10,000 cycle to a 24,000 cycle life span! 
Does Your Garage Door Rattle and Squeak?
One of the most common questions we hear from our customers is, "why does my garage door rattle"? There are many possible reasons why your garage door could be making noise when you open and close it. If your rollers are worn down, you'll hear squeaking and grinding as they roll along the garage door track. If your garage door motor has a loose chain, you'll hear a rattling sound when it's running. Other reasons for noisy garage doors include bent tracks, worn-out cables, and damaged garage door panels. Whatever the reason, we'll diagnose it on the spot and have it fixed in no time! In fact, most issues like these can be resolved on the very same day.  Check out our two-minute video that shows how quickly we can quiet a noisy garage door. Call us anytime for service! 
Garage Door Sales and Installation
If you're looking to replace a broken garage door or upgrade your current door, Prestige Door offers a wide selection of high-quality, reasonably priced garage doors from Wayne Dalton. With so many styles and options to choose from, we'll help you find the perfect door to fit your needs and budget. Our professional installation technicians will remove your old door, install your new door, and clean up the area, leaving you with a beautiful new look! Take a sneak peek at some of our before and after pictures and click on the link below to see our full photo gallery of garage door options and transformations!

What You Can Expect from Prestige Door
Open 7 Days a Week
Established by father and son team, Scott and Kevin Slutzker, Prestige Door provides affordable garage door service in Akron, Canton & surrounding areas. We specialize in quality garage door repair and installation services. We realize that when your garage door opener breaks or you can't open or close your garage door, it's inconvenient, to say the least. It's also unpredictable. That's why we're open 7 days a week and offer both evening and weekend appointments to get you back on track as soon as possible.
Customers Always Come First
As a family-owned and operated business, we take pride in our work and respect the people we serve. Why? Because this is where we live, too. Our customers are our most important asset. At Prestige Door, it is about more than just business. We will always do what it takes to assist our customers, even if it means providing a quick bit of free advice over the phone to solve your issue. Fixing garage doors and operators is what we do, but we're much more…we're Prestige Door!
Same Day Service
Even more, we offer same day service with superior results based on time-tested experience. Our Vans are fully stocked with the highest quality parts and repair tools to get your garage door back up and running as quickly as possible. Here's the best part, we don't charge more for same-day repairs and we're available for 24-hour garage door repair service.
Quality and Value
Our commitment to you, our customer, is to ensure you are completely satisfied with our work before we leave your home. We will strive to meet your expectations for quality, value, and customer service…Every Time. Don't just take our word for it, check out our reviews on Home Advisor, Angie's List, Google and Facebook. You'll hear directly from our customers about their experience with our company through the years and how we go above and beyond to make sure our customers are satisfied with our work and feel good about their decision to choose Prestige Door.
Our Garage Door Service Area
When you search for garage door repair near me, consider calling Prestige Door. We offer free estimates, same-day service, and fair prices. Whether you need garage door spring repair, cable repair, or just a new set of rollers, we'll get your garage door up and running in no time. If you need a brand new garage door opener or you're looking for expert garage door installation, we've got you covered there too. Oh, and did we mention we have a great selection of new garage doors? No matter what you need, we'll give you affordable options and explain everything clearly so you can decide what's best for you. Let Prestige Door be your local garage door repair team!
Proudly Serving Northeast Ohio
When it comes to professional garage door repair near me, garage door installation, routine maintenance and more, Ohioans need to look no further than Prestige Door. Check out our profile with the Better Business Bureau.
From Canton to Medina, Ravenna to Minerva, Akron to Alliance and everywhere in between, when you have a problem with your garage door or garage door opener, it's time to call Prestige Door. We service 108 distinct areas in Northeast Ohio. Your garage door is far too important to leave to just anyone. Our friendly, well-trained technicians will come to you, rain or shine…day or night.
For expert garage door repair in Akron, Canton & surrounding areas, simply scroll down for our contact information. Let us be your friendly garage door repair professionals!
Our Top Garage Door Service Areas